Posted by Mike on May 10th, 2010 10 Comments »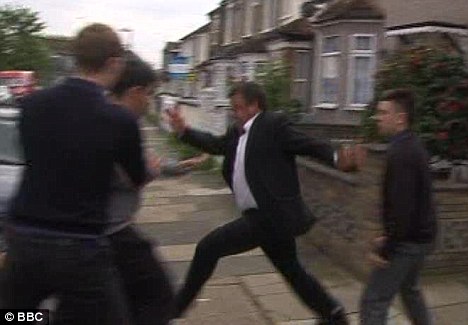 A question from Joe the Plumber is probably the most amusingly difficult thing an American politician needs to address while on the campaign trail. British politics works a bit differently.
Bob Bailey, a British parliamentary candidate, got into a fight with a group of hecklers while campaigning for his party in the town of Barking. A video of the fight captured by the BBC shows Bailey shouting at the group of men, who confront him and escalate the argument.
Bailey, a former royal marine, tells the group to 'move on', but instead of moving on, an individual in the group spits in Bailey's face, propelling the argument into an all-out fight. Bailey instantly lunges at the spitter, punching and kicking him to the ground, and continues to beat him while he is down.
There's a very important lesson to learn from all this: Don't fuck with marines. Or British politicians. Especially a combination of the two. Specifically, don't fuck with Bob Bailey.